Every two years, visitors from the Province of South Wales travel up to Arran with families and friends for our annual ladies' night dinner and dance. On that occasion, the regular meeting is moved to the Monday following the ladies' night.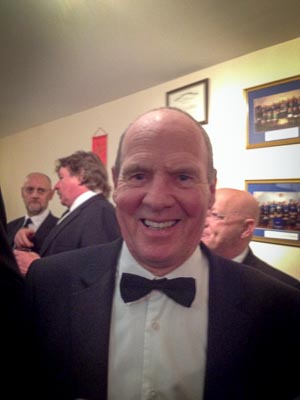 On Monday, 24 February, we exemplified a third degree and, having no live candidate of our own–-there is one in the wings but he couldn't make it–-we persuaded a Welsh Past Master to stand in as candidate, Roger Browning. As RWM Andy Martin stated in his closing remarks, a more attentive candidate than our Lodge has ever seen. Roger thoroughly enjoyed himself and was a model candidate.
During the closing part of the meeting, three presentations were made to our Lodge by our Welsh brethren.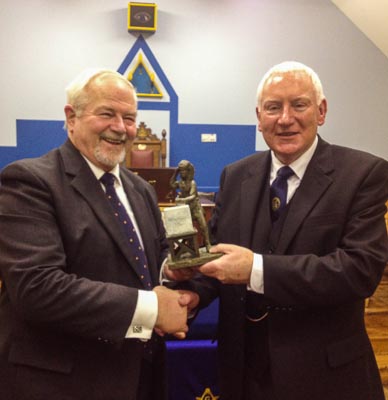 Chris Turner of Breaksea Lodge No 8358 presented a framed portrait of our very own bard, Robert Burns. Archie Reynolds, RWM of Llantwit Major Lodge No 9241, presented three bottles of what he referred to as the second-best whisky in the world, a remark that went down very well amongst our own brethren! Finally, Roger Andrews, also of Llantwit Major, presented a maquette sculpted by himself in bronze of HAB sculpting a perfect ashlar. It was a beautiful thing to behold and our RWM Andrew Martin was at a loss for words.
All in all, it was a very enjoyable evening, and a fine harmony followed the meeting.
Floor workers for the night were as follows:
Retrospect: Chris Stirland, WJW
Signs & Secrets: Alan Campbell, IG
Badge: Tim Keen, WSW
Working Tools: Alex Roberts, JD
Emblems: John Murchie, SD
Charge: Tim Keen, WSW