Lodge St Molios No 774 falls under the remit of the Provincial Grand Lodge of Argyll and the Isles. It enjoys a very active relationship with both the PGL and its surrounding sister lodges in the province. Visiting other lodges is challenging because of the reliance on the ferry, but this does not mean that the brethren of Lodge St Molios members are rarely seen on the mainland and surrounding islands. Far from it, in fact — St Molios brethren can often be found all around the Argyll and the western islands of Scotland. Likewise, Lodge St Molios also enjoys visits from various deputations from the region and beyond.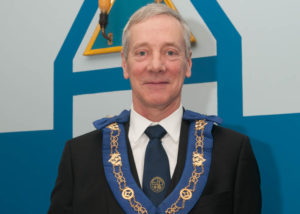 Meeting times of Lodge St Molios No 774
The lodge meets 8 times during the season. Our regular meetings are at 7:30 p.m. on the third Monday from September to March with the exception of December, when we hold our annual installation. This is on the first Saturday in December. Our annual visitation from the Provincial Grand Lodge of Argyll & the Isles finishes the Lodge year and is usually on the first Saturday in April. The PGL visits all of its daughter lodges throughout the province once a year in order to check that the Lodges are operating in accordance with the laws of the Grand Lodge of Scotland and their own byelaws. Generally speaking it makes for one of the busiest and most enjoyable meetings of the year. That little bit of added pressure of performing in front of the high heid yins makes us work harder to put on a good show.
Lodge St Molios No 774 Office Bearers 2016-2017
| Office | Office Bearer |
| --- | --- |
| Substitute Master | Donald McNiven |
| Senior Warden | John Murchie |
| Junior Warden | Alex Roberts |
| Secretary | Andrew Martin |
| Treasurer | Andrew Perrie |
| Almoner | Donald Bannatyne |
| Chaplain | Donald Galbraith |
| Senior Deacon | Alan Campbell |
| Junior Deacon | Andrew McNiven |
| Director of Ceremonies | John McDonald |
| Architect |  William McNish |
| Jeweller | Peter Mackay |
| Bible Bearer | Derek Fleming |
| Inner Guard | Alex Greenhorn |
| President of Stewards |  John Kelso |
| Steward |  William Brown |
| Steward |  William Robertson |
| Steward |  Donald McKelvie |
| Steward |  Harry Anderson |
| Steward |  Tim Wilkinson |
| Steward | |
| Tyler | |
Roll of Past Masters of Lodge St Molios No 774
Visit this page to see a full roll of past masters from 1890 to the present day.
Past Masters