Cams Campbell was installed as Master of Lodge St Molios No 774 on 14 October 2023 by two past masters of the lodge, Tim Keen and John Corbett, with the assistance of Chris Stirland, PM.
The day was made all the more special by a large deputation from Cams's mother lodge, Lodge Prestwick 1060, headed by their Master, Ross Main, and including Cams's brother, Brian, and his nephew, Scott.
The reply to the toast to the visitors was given by a Past Master of Lodge Prestwick, Alex Whannel. Alex was in the chair when Cams and Brian went through their Mark Degree in 1993 and was installed as Master in December by their Papa Porter. He was also Papa Porter's first candidate during his term as Master. Alex went back to the chair in 2017, and his last candidate during his term was Cams's nephew, Scott. It made for quite an emotional day!
Office-bearers 2023-24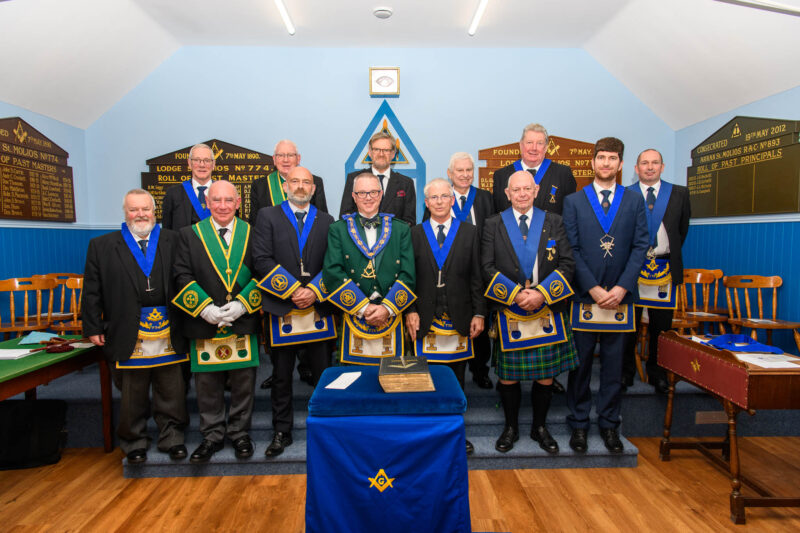 | Office | Office-bearer |
| --- | --- |
| Substitute Master | Peter Mackay |
| Depute Master | James Nichols |
| Senior Warden | Derek Fleming |
| Junior Warden | Allan Coutts PM 43 |
| Secretary | Andrew Martin PM 774 |
| Treasurer | Andrew Perrie PM 774 |
| Almoner | Donald Bannatyne PM 774 |
| Chaplain | Donald Galbraith PM 774 |
| Senior Deacon | Donald Mackay PM 774 |
| Junior Deacon | Richard McMaster |
| Director of Ceremonies | Chris Stirland PM 774 |
| Architect | Tim Keen PM 774 |
| Jeweller | John Corbett PM 744, 1822 |
| Bible Bearer | David McKinnon |
| Inner Guard | John McAllister |
| President of Stewards | Graeme Davidson, PM 443 |
| Steward | Callum McKinnon |
| Steward | Robert Blair |
| Tyler | Donald McKelvie |
Photo Gallery
Order of Service