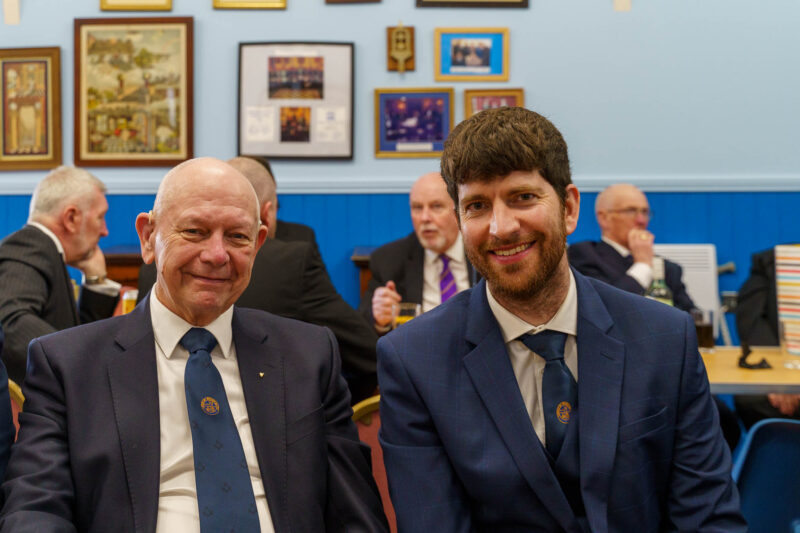 Bro John McAlister was put through his Fellow Craft degree at our provincial visitation meeting on 15 April 2023 in a solemn and dignified manner.
Degree workers were as follows:
Reception and Obligation: John Murchie, RWM
Signs & Secrets: Alan Campbell, WSW
Badge: Alan Campbell, WSW
Working Tools: Allan Coutts, PM, SD
Tracing Board Lecture: Derek Fleming, WJW and Christopher Stirland, IPM
Charge: Donald McKay, PM
60-Year Diploma for Peter Mackay
Bro. Peter Mackay was presented with his 60-year diploma during today's meeting, He's pictured here with his son, Donald Mackay PM 774, his friend Robert Redmond and the Provincial Grand Master of Argyll & the Isles, Douglas Philand.
During the meeting, Bros Donald Mackay PM and John McDonald PM, Director of Ceremonies, were presented with Distinguished Service diplomas for all the work they do for our lodge.
Affiliation of Bro. David Millar
Bro. David Millar was obligated as an affiliate member of St Molios 774 in front of a deputation of distinguished brethren from his mother lodge, Lodge St Conval Giffnock No 1359.