Lodge St Molios No 774 held its inaugural charity darts night on 2 September 2017 in aid of the local Hospital Supporters' League.
Given that this was the first time we've done such a thing, it really was an unknown quantity, but the amount of sponsorship and support was simply amazing! As well as support from many individuals in the form of sponsorship, the local Co-op made a very generous donation, as did local businesses John Thomson Construction, Armitage Groundworks, County Carpets Arran and the Isle of Arran Rangers Supporters Club.
Many thanks are due also to Bro. Fraser Hendrie, without whose expertise in arranging darts tournaments we would have been in serious bother! Also to Bobby and Joyce Rodgers for sorting out the food.
Winner Winner, Chicken Dinner
Stevie Crawford won first prize of £100 and very graciously donated the prize money to the charity. Alex Roberts, Lodge 774's Junior Warden was the runner up. It was nice to have one of our lodge members do so well.
Brother Stuart Black won the £25 prize for the losers' battle and he also graciously donated the prize money to the charity.
Close to the Nose
We rounded off the night by pinning a fiver to the board and charging £1 for a shot at getting a dart closest to the lady's nose on the fiver. This is where the competitive spirit really showed, with Bryan Farquahar and Alex Roberts duking it out, raising over £30 for the charity.
Presentation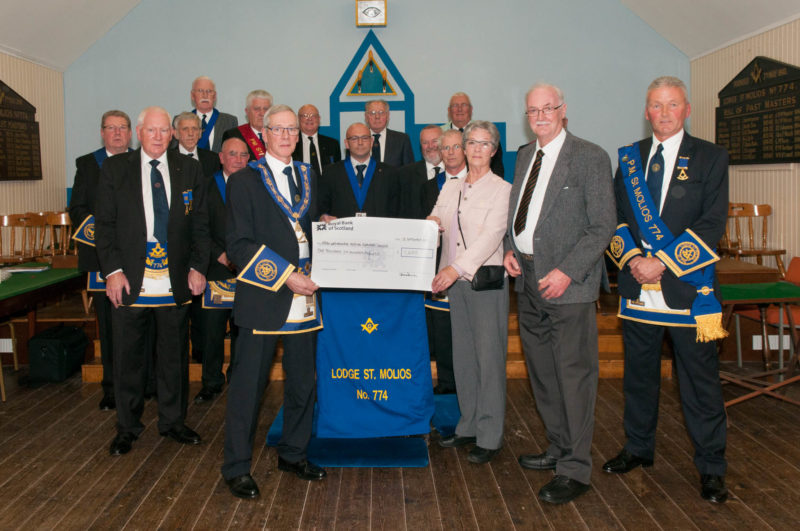 We presented a cheque for £1600 to the Arran War Memorial Hospital Supporters' League before our meeting on 18 September and had a photographer from the Arran Banner there with us to take pictures.
Photos
A selection of photos from the night, taken by our Senior Deacon Cams Campbell.
This slideshow requires JavaScript.